Disc mowers
Rotex Edelweiss
Lightweight and compact front-mounted disc mower, for mowing on steep slopes.
Range of lightweight front-disc mowers, ideal for mowing fodder in the mountains and, in general, on steep slopes.
The minimum power absorption at PTO means that the Rotex Edelweiss can also be applied to lower power tractors, reversible isodiametric tractors and special mountain tractors.
Focus
Ultra compact design
Light alloy gearbox
Protections in synthetic fabric
make the Rotex Edelweiss essential for mowing slopes where lightness and proximity of the mower to the tractor are fundamental characteristics to work better.
Technical Data
Rotex Edelweiss - AS5
| | |
| --- | --- |
| Assembly | Front |
| Type | Disc mower |
| No. of discs | 5 |
| Cutting width (mm) | 2050 |
| Max. width in transport condition (mm) | 2050 |
| Conditioner | No |
| PTO power (HP) | 40 |
| Weight (kg) | 450 * |
Structure.
Control support in light alloy with gears in oil bath.
Clutch and free wheel as standard to protect the transmission.
Bar balancing by springs.
Different types of tractor hitching frames to make them compatible with all the tractors on the market.
Central articulated joint for bar oscillation of +/- 5° and perfect adaptation to the profile of the soil. A pin makes it possible to lock it during road transfer.
Hydraulic displacement (optional), to improve load distribution when operating on slopes.
Side protections made of synthetic fabric are reclining to reduce the overall size of the machine during travel.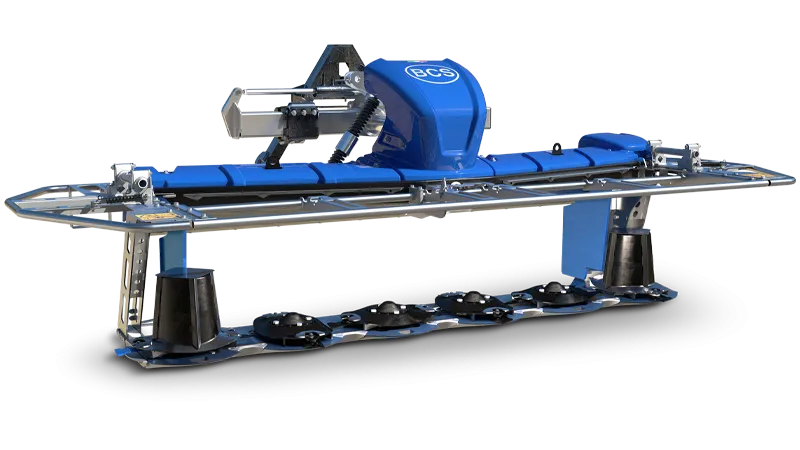 Cutting unit.
Cutter bar with gears in oil bath protected by wear-resistant skids and baffles in the blade overlap zones.
Disc-holding flanges with safety pins to protect internal parts in case of strong bumps of the discs against stones or obstacles.
Mud scraper discs, made of special steel, equipped with cleaning flaps.
Conveyor cones, mounted on the first and last disc, to facilitate swathing of the cut grass.
They might also interest you: